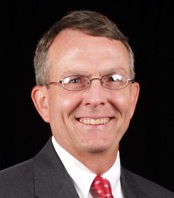 KForce (symbol KFRC), a staffing company headquartered in Tampa, Florida, is intentional about integrating Biblical principles and Christian values into the marketplace. This is reflective of an encouraging viewpoint, shared by many corporate leaders in America, that businesses can be points of light in the challenging realm of the marketplace.
The Kforce vision and values statements are prominently posted which encourages the management staff to cultivate a values-driven culture. The first value listed is "Respect" followed by this comment, "A critical core value of our firm is to treat our clients and candidates with the highest level of personal respect." When asked to comment on company values, CEO Dave Dunkel replied, "Our values are real to us and there are no exceptions to enforcement - regardless of role, level or tenure." As an example Dunkel related an instance when some top sales people were terminated for violations of core values. He along with other Kforce leaders believe that Christian values are personal and can be lived out each day through the lives of people in business.
Kforce also uses creative methods to care for its employees and the community. It has, for example, worked with Corporate Chaplains of America for over 10 years to provide employee assistance and guidance to its 2,500 core employees. It also provides opportunities for on-site, weekly Bible studies and, unlike many public corporations, does not limit contributions to "non-religious" charities. Its foundation has donated to numerous faith-based organizations including All Pro Dad, Family First, and Hope Children's home. The leaders of Kforce believe that Christian values are personal and can be lived out each day through the lives of people in business.
Even though management strives to "walk the talk" Dave Dunkel would be one of the first to acknowledge that doing business from a values-driven perspective is a constant challenge. Maybe that is why Dunkel is an active participant in C12, a national organization with over 1,000 members dedicated to helping Christian CEO's "build great businesses for a greater purpose". C12 incorporates a "hands-on" approach and requires its members, including Dunkel, to meet monthly in small groups with other CEOs to learn important Biblical business concepts.
Kforce must be doing something right. It has won several "Best Places to Work" awards over the last several years from both the Tampa Bay Times and the Tampa Bay Business Journal. It also has one of the lowest voluntary turnover rates in the industry.
As the result of the Kforce team's concerted efforts to apply Timeless American values to the marketplace, the company has been designated an American Hero Company, As such, its stock is included in our American Hero Index portfolio. We are indeed grateful for companies like Kforce whose management team, employees and, yes, even shareholders are contributing to a better and brighter America.