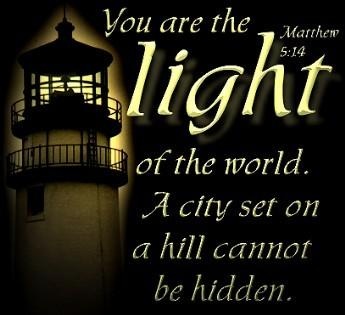 Does America have a mission? If so, what are we supposed to do or be? I would submit that Liberty and Freedom, wonderful concepts, are not our mission, but merely logical by-products of a deeper, more significant calling.
Interestingly, in major speeches, John F. Kennedy, in 1961, and Ronald Reagan, again in 1974, both referred to a phrase in a sermon given by John Winthrop, as America's clarion call. Indeed, it was Winthrop, a devout Christian, who gave the inspiring challenge for America to become, a "City Upon a Hill". He delivered his critical remarks in 1630, either before departing England or while aboard the Arabella and before arriving in what is now Massachusetts. Mr. Winthrop was clearly making a reference to Matthew 5:14 which states, "Ye are the light of the world. A city that is set on an hill cannot be hid." If Mr. Winthrop is correct, America is to be a light, a guiding inspiring light that points the rest of the world not just to Freedom, but to the author of Freedom, Jesus Christ. In addition to the oft-quoted phrase Winthrop's sermon contains specific ideas about HOW we are to flesh out his challenge including embracing such eternal concepts as justice and mercy as well as the application of the Golden Rule to our daily lives.
There is ample opportunity for discouragement since evil elements have and continue to sponsor destructive things in our culture. Much of it has been driven by an unrestrained drive for financial gain. For this reason we must rethink how to use the incredibly powerful tool of money to shape our culture. I am hoping that we, here at American Values Investments, are providing a tool that investors can use to help America become more of what Kennedy, Reagan, Winthrop and ultimately Jesus envisioned. By supporting, with our investment dollars, public companies that best reflect America's timeless values, we strengthen those companies that are adding brightness to her light.
John Winthrop's message was addressed to Christians, and it is amazing that after all these years those who profess Christianity still make up the majority of our citizens. Consequently, there is enormous influence which can be used to help mold America into that bright land to which many searching souls, both here and abroad, will be attracted. We CAN, with God's help, use our words, our votes, our money, our prayers and, indeed, our love for others, to help America move toward her lofty goal, "A City Upon a Hill." It's important to note that even though Winthrop's call was to Christians, America's resulting light has been beneficial to all people groups.
Some might say America has lost her way and, therefore, her light. Not so. There are still many in the world to whom America still is a great shining example. This was reinforced nicely to me on a recent mission trip to the Dominican Republic. I was continually encouraged to experience the incredibly warm reception we received as a result of merely being Americans. We were definitely given the "benefit of the doubt". Can we get better? Yes, and better we must become because the fight is only intensifying.
I would encourage each of us to ask the question, "What can I do to help America become that "City Upon a Hill", envisioned so long ago by John Winthrop?" Whether we use our money, our influence, our talents, or our prayers ... ANY donation, large or small, to America's light will be gratefully accepted.