30 second Nucor video uplifting America's values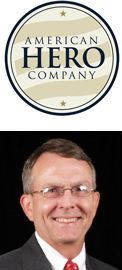 ​Some say manufacturing in America is going the way of the Edsel, but Nucor's (symbol NUE) dedicated team of employees might take exception to that premise. Nucor, our nation's largest steel producer, is an excellent example of how building a company on principles and values, even in a tough industry, can cause the "practical pundits" to eat their words.
As most would agree a strong manufacturing base is extremely important to a healthy America. Yes, cheap labor in other countries makes them attractive to companies seeking to lower product costs, but what is too often discounted is American ingenuity combined American values. Nucor is a grand example. They have defied the odds and serve as a beacon of hope to Americans everywhere. Based on our scoring of three important values, Integrity, Caring, and Courage, Nucor has earned the right to be designated as one of our American Hero Companies, and is therefore eligible for potential inclusion in our portfolios.
In order to compete in the steel industry Nucor has to be good, really good atproductivity. An innovative and egalitarian approach to operations helps employees feel included, inspired and energized. Even though a multi-billion dollar company, Nucor has a headquarters staff of less than 100 people and just five layers of management. They believe employees, not mangers, drive their success. This does not mean employees are coddled, but challenged and offered significant opportunity.
Compensation is based on the "old fashioned" idea of "pay for performance". Employee pay goes up AND down based on their team and overall company performance. It is one reason they have survived since management has the flexibility to lower pay during off years. At the same time management is committed to employees. So far, Nucor has not laid off any employee because of lack of work. This is almost unheard of in corporate America and a wonderful example of loyalty. This is one more reason why Nucor employees, as a whole, seem to have a high degree of satisfaction and dedication to the company. One employee told a story about a time he and his daughter were driving past his former place of employment. She said, "Daddy, that's where you used to work when you was grumpy".
Nucor has received numerous awards over the years. In 2010, Nucor's CEO Daniel DiMicco was recognized as one of the "Best Performing CEO's in the world" and recently, Nucor was included in Fortune's 2012 list of most admired companies.
We believe American Hero Companies, like Nucor, help America, by modeling for us and our children values that never go out of style. If they support America and her values, maybe we should support Nucor with our investment dollars.
Carter LeCraw, CEO
American Values Investments, Inc.
March 12, 2012
For information on how you can help America by owning stock in American Hero Companies visit our web site www.americanvalues.com